On successful completion of this Aircraft Mechanics apprenticeship, the apprentice is awarded a QQI Level 6 Advanced Certificate Craft – Aircraft Mechanics.
This apprenticeship consists of four on-the-job phases with an approved employer and three off-the-job phases in an educational organisation. Apprentices will be invited to attend their off-the-training phases in accordance with the SOLAS scheduling system. Whilst every effort is made to eliminate unnecessary travel for apprentices it may necessary for apprentices to attend educational organisations that are not convenient to their locality.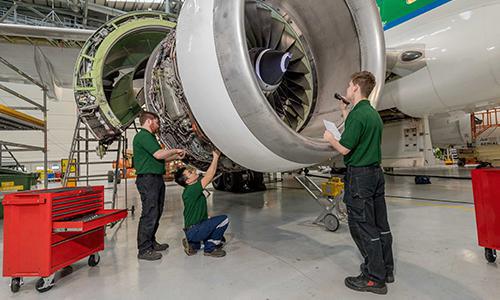 This apprenticeship is deemed to be complete when an apprentice has successfully completed all on-the-job and off-the-job phases of their apprenticeship, which is a minimum of four years in duration from the date of registration. See brochure for further information. Please note for entry to this apprenticeship applicants are required to undergo a SOLAS-approved colour vision test
Pay
For this Aircraft Mechanics apprenticeship, the employer pays the apprentice while s/he is being trained on-the-job. The rate of pay is agreed between the employer and the apprentice.
Training Allowance
A training allowance is paid by the local Education and Training Board (ETB) while the apprentice is attending the off-the-job training. In some cases, a contribution towards travel or accommodation costs may be paid if deemed eligible. The industrial designation of the employer will determine the allowance payable. See 'Training Allowance'
Student Contribution
Apprentices pay a pro-rata registration fee if their off-the-job training takes place within an Institute of Technology. The registration fee will equate to the amount of time the apprentice spends in the Institute of Technology. The payment of the pro-rata registration fee is made by the apprentice directly to the Institute of Technology. For further information, see 'Student Contribution'
Further Information
For more information on apprenticeships contact the apprenticeship section in your local ETB. For contact details of your local ETB select your county here